If you're selling on the Net, or are right now thinking about it,

listen up
- you're about to...
DISCOVER THE HIDDEN ELEMENTS ON YOUR SITE THAT COULD INCREASE YOUR PROFITS BY 1,000% OR MORE...
- it will cost you practically

nothing

, and you could see results
in as little as 48 hours.




Special Report written by Paul Hancox and brought to you by TalkBiz News


Of course, you've probably heard claims like that before. Well, give me just 3 minutes of your attention, and I'll

prove it

to you right now:

Have you heard of any of these people?

Jay Abraham

,

Mark Joyner

,

Terry Dean

or

Corey Rudl

? If you have, you'll know they're ranked among the world's top marketers...

And yet, they didn't start out like that - but they made a discovery early on that propelled them to success. It's that...

...

small

changes can have

profound

effects on your bottom line!

(You'll see just

how

profound in a moment...)

For instance, Terry Dean recently made one of these small changes to a sales letter, as you'll see. His sales increased by

70%

. Wouldn't you like this kind of increase? Well, it gets better...

Corey Rudl, one of the earliest and most famous internet marketers, tells of a discovery he made early on in his career, that profited him handsomely – and that each and every one of us can duplicate, because it costs practically nothing! Here's how he made the discovery:

Corey asked a

magical question

to his customers, and was shocked by the answers. It enabled him to make one small change to his sales letter – a change that rocketed his sales by

300%

within 48 hours! Now, maybe you're curious to know...

What was it that Terry Dean and Corey Rudl changed?

It was simply their sales letter's headline. (If you're interested, I'll show you what these changes were, and precisely what that magical question was.)

Now, as you read on I want you to think about this…

If, simply by changing one element of your site, you could increase your sales by 70%... or even 300%, would you do it right now?

If you answered yes, then read on - because I've got to tell you something even more exciting... something that will just make your heart beat even faster:



There may be several (possibly even dozens) of these profit-increasing elements hidden, just waiting to be discovered, on your site!



Think about it - if, by discovering just one of these elements, you can potentially increase your sales by 70%, 300% or an as yet unmeasured percentage... what will, say, four of these do to your bottom line?

I really don't know, and you won't either, until you find them! And you know what?

…I'm going to show you how to find every last one of them until your site is raking in the profit as easily as raking up leaves in the fall!

Listen - let me share with you a little secret:

Let's say just 1% of your visitors eventually go on to become a customer. Now, if you're selling a $50 million jet engine, then 1% could be extremely profitable for you, right? After all, you only need 100 visitors to make a $50 million sale. However...

If you're selling a $50 product, and your site converts 1% of visitors into paying customers, then 100 visitors will earn you just $50. And how much of this is actual profit will depend on your costs. If it costs you $40 to get these visitors, you're making a profit of just $10!

In other words, you'll need a lot of traffic to make a lot of profit!

(If you wanted $1,000 a month profit, you'd need at least 10,000 visitors a month. And creating that many unique visitors can be hard work!) But...

Watch what happens if you could somehow go from converting 1% to 2% of your visitors into customers:

Every 100 visitors now generates you about 2 new customers, which earns you $100. It costs you the same amount to acquire these visitors (i.e. $40), because the amount of traffic hasn't changed - so your profit is now $60...

Can you see what's happened? Your profit has gone from $10 to $60 for every 100 visitors. In other words, you've just increased your profit by 500%, without spending any extra money!

And if you were to go from 1% to 3% the results are even more exciting. You now make 3 sales (or $150) for every 100 visitors, your costs are still $40, and so your profit is now $110...

Your profit has gone from $10 to $110 for every 100 visitors – an increase of 1,000%!

(Now if you wanted $1,000 a month profit, you'd need just 910 visitors a month – much easier to achieve than 10,000!)



That's how easy it could be to increase your profits by 1,000% or more! (See, and that can't have taken you much more than 3 minutes to read.)



You can discover precisely how to find your profitable hidden elements in my Special Report entitled: "Small Changes: Big Profits - How To Quickly and Easily Make More Sales From Your Web Site".



In this Special Report you'll discover...



In addition, this special report will open your eyes to some remarkable insights:


How a single 1% increase in your visitor to sales conversion ratio can result in a profit increase of much more than 100%...


Does long copy outsell short copy? The answer may surprise you!...


Three reasons why your navigation links could be killing your sales...


How to "spy" on your visitor's every move!...


My list of magical questions that will virtually guarantee you'll find a way to increase your sales - how, when and where to ask them for maximum effect...


The amazing truth about conversion rates - if you're looking at your visitor to sales ratio then you could be looking at the wrong thing! Find out why...



Paul -

I just finished reading "Small Changes: Big Profits (2008 Edition)", it took me a week, but I wanted to take my time and absorb every word...

First, let me say that I rarely read an ebook from beginning to end. I just don't have that much spare time, and ebooks usually contain a certain level of rehashed content that can be skipped, so I don't usually miss anything...

Your ebook, however, is quite unique. I found it to be practically bursting with valuable information - I was actually looking for something "less interesting" to skip and could not find anything - not even a single paragraph!

Your book does a wonderful job of showing the reader what factors are important to making money online - and then providing a step-by-step process of how to maximize those factors - it's simply a must read for anyone that sells anything online - whatever experience level.

I didn't read your first book, but I'm going to be damn sure to get my hands on a copy.

Thanks for the excellent read!

Your newest fan,

Michael Ellis
www.VictoryKey.com




Start reading right now, and watch your profits start to soar...


The price of this 150 page Special Report (2008 Edition) is

only $27

. It is covered by my 8 week personal guarantee: If you read this book and don't believe it is worth 100 times the price in potential increased income, let me know and I'll refund 100% of the price. No questions asked.

Note: This report is in PDF format, which is viewable on virtually every computer platform (including Windows, Mac and Palm OS and Pocket PC). Full instructions on reading PDF files will also be provided.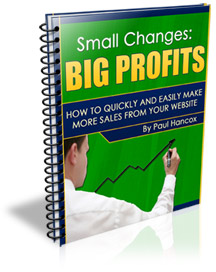 Yes!

I would like to start using the profit building techniques in "Small Changes: Big Profits (2008 Edition)" immediately, and understand that the price of the complete manual is a one time investment of only $27.

I know that I am covered by your 8-week, "100 Times the Value" guarantee. If, after reading the manual, I don't feel that I will make at least 100 times my investment using these simple techniques, I can receive a 100%, no questions asked refund.

On that basis, I would like to get started right away.






P.S: If you have any questions before your purchase (or even after!), don't hesitate to send me an email. Just use the contact link below.

Sincerely,

Paul Myers
paul@talkbiz.com



Paul, this is an amazing product. Through small and simple means it showed me to how to maximize my website's profitability.

It gave me step by step instructions on how to determine which portions of my sales letter were actually driving people away and which portions really 'hooked' people.

It also gave me an easy-to-follow recipe for figuring out what customers really want when they visit my site.

If people implemented a small fraction of what you teach they would see big results.

Nick Stewart
www.50marketinglessons.com